Archive for the 'Look' Category
Tuesday, August 3rd, 2010
So its been a month, and now a great many things are actually functioning on this here interweb site.
For further entertainment, I give you, me…getting doused by a wave in the Aegean sea, and some hijinx at this years' Fluid Movement water ballet, "Jason and the Aquanauts: 20,000 Legs Over the Sea!"
Enjoy:
This clip from Fluid Movement doesn't have anything to do with my involvement in the show as sound-designer, but offers me an opportunity to begin plugging the cottage software industry upon which I'm embarking.
I created an application specifically for this show using MAX/msp which allows the technical director to trigger sound cues and ambient bed loops from key commands while simultaneously processing live microphone inputs with digital effects, all in real-time.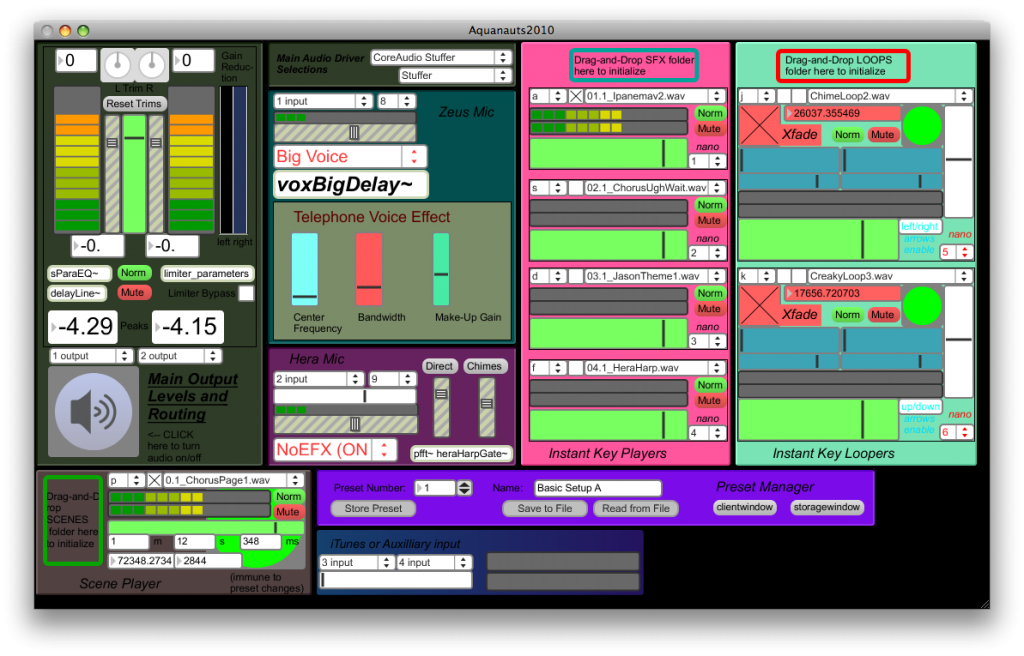 The system allows for simple drag-and-drop initialization of sound effects, full show numbers, and background ambience beds which populate drop-down menus within various modules.  Each of these can then be assigned to a particular keyboard key for instant triggering.  The application also allows a loop-through for iTunes or some other audio source for pre- and post- show music playback.  Look for more details to come in the "Beg/Borrow/Steal" section of this website in the near future!