Archive for the 'Movies' Category
Monday, December 15th, 2014
Sean recently helped a fantastic non-profit- Stone Soup Films -complete audio sweetening and post for "The Anacostia River: Making Connections"
This was an enjoyable, challenging project with lots of outdoor ambiance to really set the location.

The Anacostia River: Making Connections from Stone Soup Films on Vimeo.
Friday, December 12th, 2014
Merry Christmas, Happy Kwanzaa, Happy Chanukah, Sublime Solstice… however you refer to your winter celebrations, enjoy this offering from our good friends Hot and Bothered!
It was a pleasure to work on this project with the guys and I hope it lifts your spirits this holiday season!
Friday, August 20th, 2010
A PG-rated and somewhat irreverent backstage look at Fluid Movement's 2010 water ballet: "Jason and the Aquanauts – 20,000 Legs Over the Sea"

Heres my backstage video memoire:  completely edited, and produced by Sean P. Finn for ForZeroNoise.com with extra footage and cast interviews shot by Victor Perez (aka "Jason").
Tuesday, August 3rd, 2010
So its been a month, and now a great many things are actually functioning on this here interweb site.
For further entertainment, I give you, me…getting doused by a wave in the Aegean sea, and some hijinx at this years' Fluid Movement water ballet, "Jason and the Aquanauts: 20,000 Legs Over the Sea!"
Enjoy:
This clip from Fluid Movement doesn't have anything to do with my involvement in the show as sound-designer, but offers me an opportunity to begin plugging the cottage software industry upon which I'm embarking.
I created an application specifically for this show using MAX/msp which allows the technical director to trigger sound cues and ambient bed loops from key commands while simultaneously processing live microphone inputs with digital effects, all in real-time.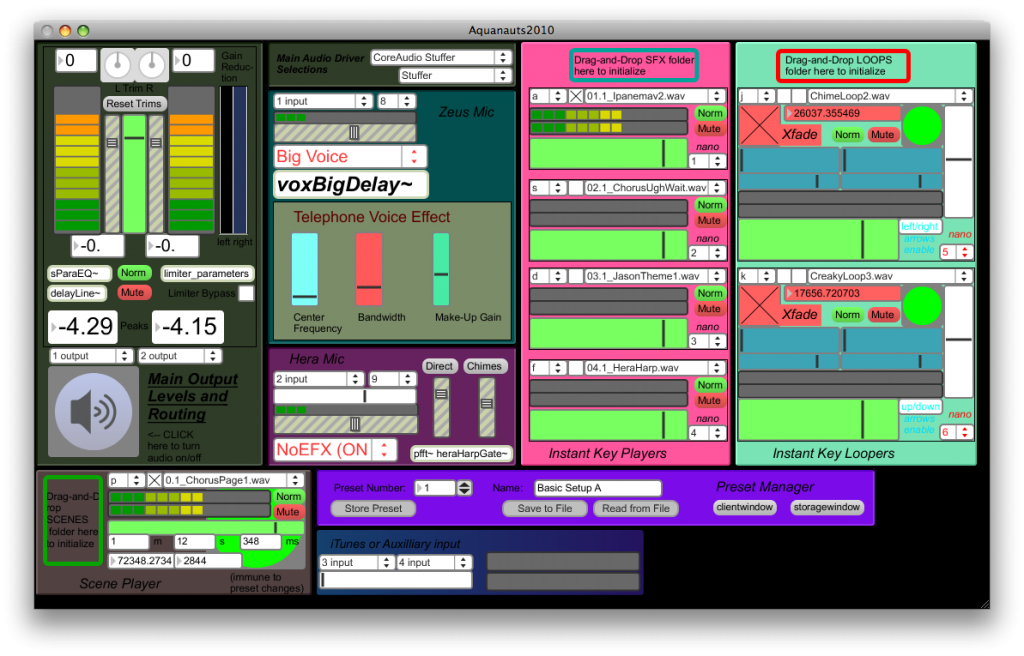 The system allows for simple drag-and-drop initialization of sound effects, full show numbers, and background ambience beds which populate drop-down menus within various modules.  Each of these can then be assigned to a particular keyboard key for instant triggering.  The application also allows a loop-through for iTunes or some other audio source for pre- and post- show music playback.  Look for more details to come in the "Beg/Borrow/Steal" section of this website in the near future!