Archive for the 'Listen' Category
Friday, October 8th, 2010
More progress: ticTocks preliminary
Another draft from October 18th… mp3 here.
Something fun to listen to!  Don't worry, it won't sound anything like this by the time I'm finished!!!
Wednesday, September 15th, 2010
Tuesday September 14th's Out of Your Head at the Windup Space was great fun. I had the pleasure of performing with Eric Trudel on sax, Jon Lipscomb on guitar, and Nathan Ellman-Bell on drums, all fine and sensitive dudes. Thanks to them, and everyone who listened attentively!
Here's your first taste… from the end of the night!
Now another piece just before taking a break.
And here are three "movements" of a sonata-type piece involving some bowed cymbals.
First

LigetiFest, part of Mobtown Modern's 10-11 season, featured excellent interpretations by Jenny Lin and Poème Symphonique during intermission, seen here:
Saturday, August 28th, 2010
Here's my audio "walk around" of the grounds at the base of the Acropolis in Athens, Greece… in three parts:
Part 1 – This first installment begins with, and is dominated by, a brass band that couldn't quite decide how, or even if, they wanted to stop vamping their tune.  It then continues to a more traditional folk ensemble and ends with a hint of the guitarist to follow in part 2.
Saturday, August 28th, 2010
Listen here: Part 2
Saturday, August 28th, 2010
Listen here: Part 3
Friday, August 20th, 2010
A PG-rated and somewhat irreverent backstage look at Fluid Movement's 2010 water ballet: "Jason and the Aquanauts – 20,000 Legs Over the Sea"

Heres my backstage video memoire:  completely edited, and produced by Sean P. Finn for ForZeroNoise.com with extra footage and cast interviews shot by Victor Perez (aka "Jason").
Tuesday, August 3rd, 2010
So its been a month, and now a great many things are actually functioning on this here interweb site.
For further entertainment, I give you, me…getting doused by a wave in the Aegean sea, and some hijinx at this years' Fluid Movement water ballet, "Jason and the Aquanauts: 20,000 Legs Over the Sea!"
Enjoy:
This clip from Fluid Movement doesn't have anything to do with my involvement in the show as sound-designer, but offers me an opportunity to begin plugging the cottage software industry upon which I'm embarking.
I created an application specifically for this show using MAX/msp which allows the technical director to trigger sound cues and ambient bed loops from key commands while simultaneously processing live microphone inputs with digital effects, all in real-time.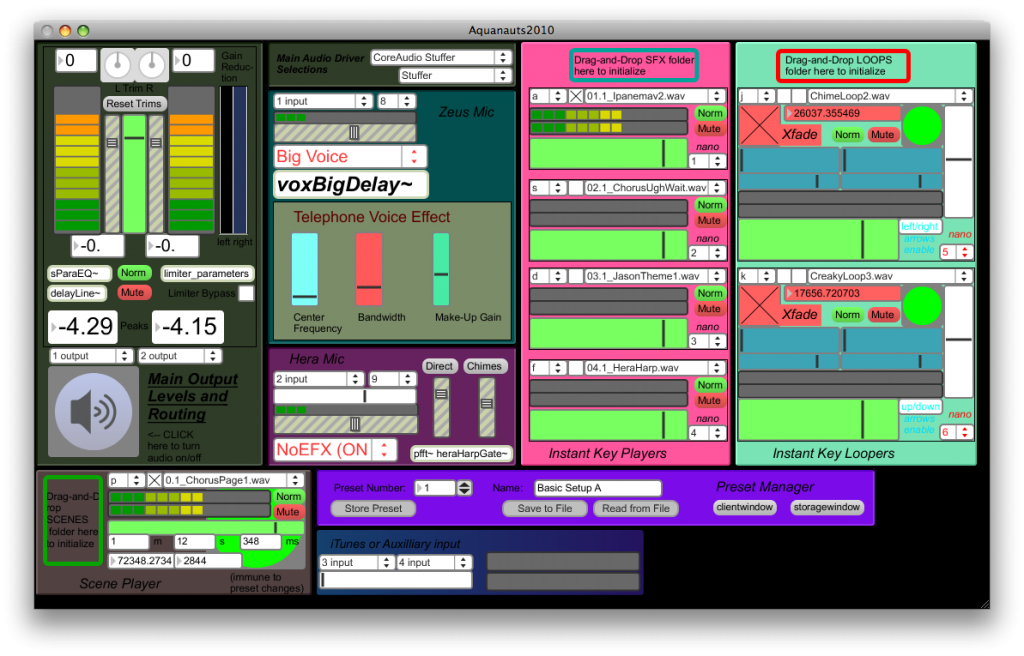 The system allows for simple drag-and-drop initialization of sound effects, full show numbers, and background ambience beds which populate drop-down menus within various modules.  Each of these can then be assigned to a particular keyboard key for instant triggering.  The application also allows a loop-through for iTunes or some other audio source for pre- and post- show music playback.  Look for more details to come in the "Beg/Borrow/Steal" section of this website in the near future!