Archive for August, 2010
Saturday, August 28th, 2010
Here's my audio "walk around" of the grounds at the base of the Acropolis in Athens, Greece… in three parts:
Part 1 – This first installment begins with, and is dominated by, a brass band that couldn't quite decide how, or even if, they wanted to stop vamping their tune.  It then continues to a more traditional folk ensemble and ends with a hint of the guitarist to follow in part 2.
Saturday, August 28th, 2010
Listen here: Part 2
Saturday, August 28th, 2010
Listen here: Part 3
Saturday, August 28th, 2010
I highly approve: http://2d3d5d.com/work/Tuned-Pale-Ale
Saturday, August 21st, 2010
Friday, August 20th, 2010
A PG-rated and somewhat irreverent backstage look at Fluid Movement's 2010 water ballet: "Jason and the Aquanauts – 20,000 Legs Over the Sea"

Heres my backstage video memoire:  completely edited, and produced by Sean P. Finn for ForZeroNoise.com with extra footage and cast interviews shot by Victor Perez (aka "Jason").
Tuesday, August 10th, 2010
Check out my 12:45 pm photo-log.  Begun on May 1, 2010, one view west, then east taken everyday at 12:45pm with an iPhone 3G, so don't expect great quality!  To me its a journal and test-bed for iPhone photography apps and techniques.  Eventually it might become some sort of interesting study, someday…
Tuesday, August 3rd, 2010
So its been a month, and now a great many things are actually functioning on this here interweb site.
For further entertainment, I give you, me…getting doused by a wave in the Aegean sea, and some hijinx at this years' Fluid Movement water ballet, "Jason and the Aquanauts: 20,000 Legs Over the Sea!"
Enjoy:
This clip from Fluid Movement doesn't have anything to do with my involvement in the show as sound-designer, but offers me an opportunity to begin plugging the cottage software industry upon which I'm embarking.
I created an application specifically for this show using MAX/msp which allows the technical director to trigger sound cues and ambient bed loops from key commands while simultaneously processing live microphone inputs with digital effects, all in real-time.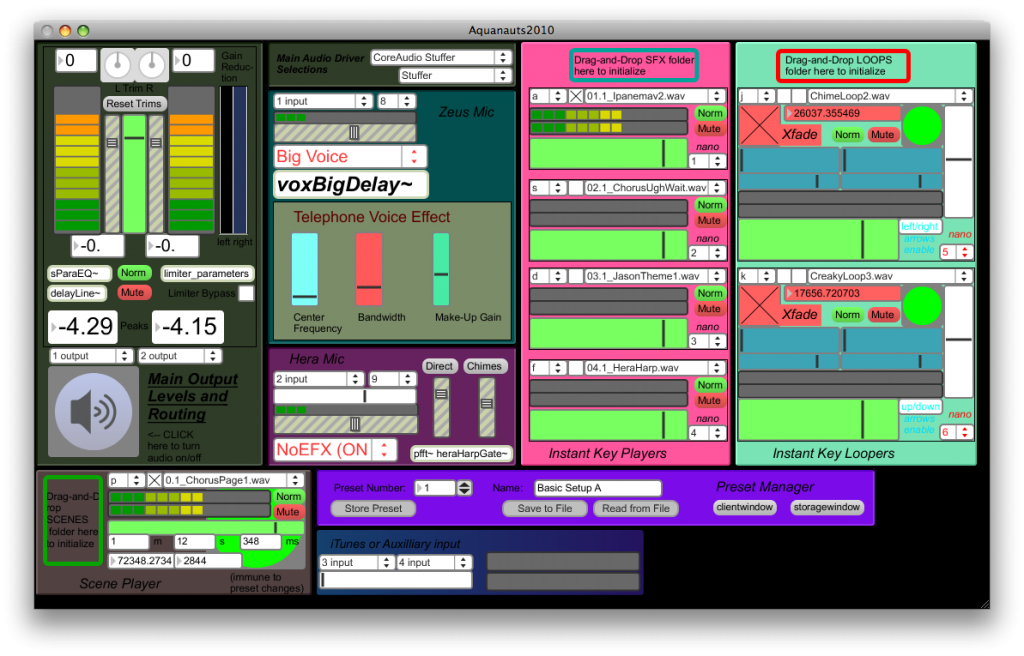 The system allows for simple drag-and-drop initialization of sound effects, full show numbers, and background ambience beds which populate drop-down menus within various modules.  Each of these can then be assigned to a particular keyboard key for instant triggering.  The application also allows a loop-through for iTunes or some other audio source for pre- and post- show music playback.  Look for more details to come in the "Beg/Borrow/Steal" section of this website in the near future!